Straight, Forward, Sealing.
Case Sealers
INSITE's sealers use a clean, minimalist design, despite being packed with functions and features that other case sealer manufacturers charge for. Our case sealing equipment handles a large range of case sizes while accommodating enormous variations in the number of cases that can be sealed per minute. They're safe, dependable, efficient to operate and effortless to maintain. Check out the rest of this page to learn more about how INSITE's case sealers can improve your packaging operations.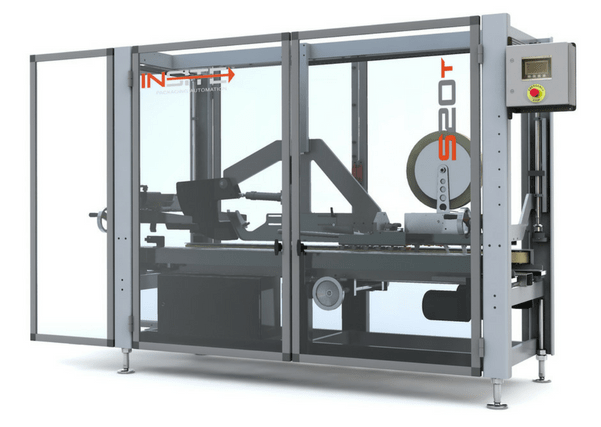 Key Features
A sealed case is only part of the story. How you get to a sealed case is just as important. Does your case sealing equipment seal your cases fully and dependably? Does it run reliably without jamming or breaking down? Does it handle the cases firmly enough to control them, but not so firmly that it damages your product? Does it keep your operators safe and run so smoothly and efficiently that it allows those operators to spend time adding value in other parts of your operation? These are questions that an experienced case sealer manufacturer can help you answer. And with INSITE's thoughtfully designed case sealers, the answer to all those questions is a resounding "yes."
Major flap control
Any good case sealer needs a mechanism to control a case's major flaps. That's because any good case sealer manufacturer knows that major flaps are a primary cause of jammed or damaged cases. At INSITE, we agree. What we don't agree with is charging extra to get something so essential. Major flap control comes standard with our reasonably priced case sealers.
Standard touch-screen controls
Modern packaging equipment should live up to modern usability standards. At INSITE, we believe even base-level case sealers should 'smart' and maintain high expectations for intuitive system control. Our case sealers put that control where it should be: at the tip of your finger.
Full-length guard doors
Full-length guard doors with safety switches provide excellent operator safety while allowing for full access when the machine is stopped. When your operators run the sealer, guard doors keep them safe. But when they replenish tape or perform preventative maintenance, there's nothing to get in their way.
Tilt-accessible tape-head
Even the tape sealer shows INSITE's thoughtful design. Our case sealer tape heads tilt easily for superior access or removal. You can replace the existing roll or perform a quick swap of the entire tape head; either way, this critical piece of case sealing equipment won't slow you down.
Spring-loaded side belts
Case sealers need to hold and convey cases without damaging them. INSITE's case sealer uses spring-loaded side belts to get just the right amount of grip. This side belt configuration also allows for a range of case width variances throughout a given production run.
Portability and dexterity
If your operation needs a stand-alone case sealer to be in different places at different times, that's no problem. INSITE's case sealers have a caster option that allows easy relocation to different lines as plant demand or design changes. And if those changes require a different sealer orientation, that's no problem, either. Our sealers easily convert between left-hand and right-hand operation.
Case Sealer Specifications
If you're looking for information that's not listed here, contact us. We'll get you all the resources you need to choose the case sealing equipment that works for you.
| | S20G | S20T |
| --- | --- | --- |
| Max. Speed (cpm) | 20 | 20 |
| Min. Case Size | 8.0" (L) x 6.0" (W) x 5.0" (D) | |
| Max. Case Size | 22.0" (L) x 16.0" (W) x 16.0" (D) | |
| Case Types | Regular Slotted Cases | |
| Frame | Plate steel & formed metal channel | |
| Finish | Powder coat | |
| Changeover Points | 8 | |
| Changeover Types | HMI input, hand wheel, hand lever/clamp | |
| Changeover Time (approx) | ~2 to 4 minutes (total) | |
| Glue System | Nordson ProBlue 4 | N/A |
| Flap Management | Festo air cylinders, plow rails | |
| Guarding | Lexan doors with safety switches | |
| Power | 480 3Ø / 60 HZ | |
| Air | 70 PSI | |
| Machine Footprint | 6.9' x 2.7' | |
| Tape Width (S20T only) | 2 or 3 inches | |
| Options | Low Tape Alert (with stack light); Caster Portability | |
Case Sealer Innovations
INSITE is committed to serving your business through peerless packaging solutions that optimize production efficiency and give you the biggest return on your investment. That's why we continuously build on new ideas that make our packaging machinery even more effective. INSITE case sealers use a range of inventive technologies, systems and designs to increase the speed, quality and reliability of your sealing operations, all while respecting your pocketbook. Explore below for a rundown on a few of these innovations.
Flap containment

Most sealers require major flaps to have full clearance from minor flaps. In these case sealing machines, a case variance can easily miss that clearance and cause damaged flap corners. Like INSITE's case sealers, there are other high-end sealers on the market that contain the major flaps effectively and consistently. Unlike INSITE's case sealers, those machines are often extremely expensive.

Single machine, vast functionality

With INSITE's case sealing equipment, you can cover a wide range of operating requirements. It has the ability to handle a large swath of case sizes while running anywhere from 1 case per minute to 20 – and soon 30. With INSITE, you get the best of both worlds: less machine, more capability.

Designed to save

INSITE's case sealers have been thoughtfully designed to limit costs during the machine sourcing and building process, including reducing package weight and size. One machine covering a wide range of case sizes and speeds allows economy of scale. Similarly, machine symmetry and a carefully designed sealing module enable our parts to be consistent regardless of machine orientation or configuration. So whether you want a left- or right-hand machine, glue- or tape-seal, those configuration changes have no negative impact on our cost structure. The result? A high-end case sealer at a not-so-high-end price.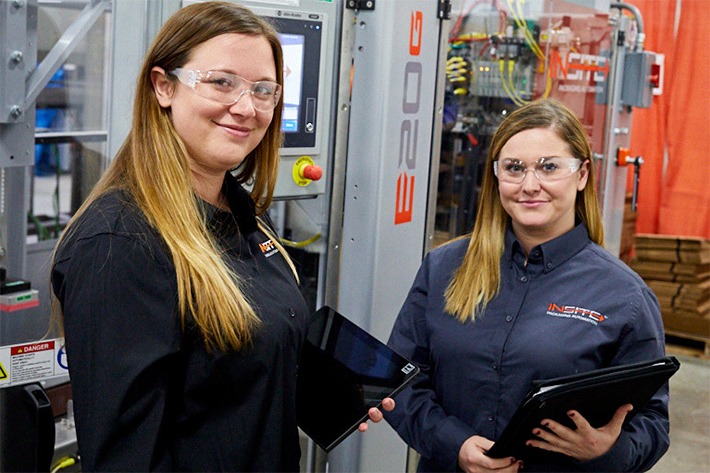 Innovation With Intent
INSITE machines and technologies exist to increase the value and quality of your company's packaging systems. All ideas and innovations we develop serve that singular purpose. As your production needs and aspirations change, your automated packaging solutions need to keep up. Through tireless innovation, INSITE will help you meet and surpass your packaging goals—no matter how challenging or ambitious they become.
INSITE combines leading-edge automation technology with unrivaled customer service, empowering your business with the tools it needs to take its packaging to the next level.
Case Sealer Resources
Looking for more detailed information on automatic case sealers and how they operate in a real-life production environment? Then you've come to the right place. INSITE is proud to offer the resources you require to better understand and capitalize on the latest case sealing equipment options.
S20G Videos Coming Soon

Check back later for updated videos of INSITE's glue case sealing machines!

S20T Tape Seal Animation

Check out this animation depicting our S20T tape top sealing machine as it accepts incoming product, controls the major flaps and seals the case tops!
FAQ: Case Sealers
How do I determine 'machine hand'?

INSITE determines machine hand by standing on the operator/HMI side of the machine and observing the direction the cases travel. If the case blank moves from right to left as it's erected and sealed, you are looking at a left hand machine. If the case blank moves from left to right as it's erected and sealed, you are looking at a right hand machine. (See diagram.)

Does 'case hand' matter with INSITE's sealers?

No. INSITE's case sealers can run both left and right hand cases.

What type of hot-melt glue does INSITE recommend?

INSITE recommends HB Fuller Advantra PHC 9256.

How do I configure a case sealer, and what options are available?

See our 'Get a Quote' page. It will walk you through the configuration process.

How much do INSITE case sealers cost?

See our 'Get a Quote' page. It will walk you through the configuration process and provide you a quote for your configured packaging machines.

Can I buy INSITE products through a local agent or distributor?

Yes, if your agent or distributor is willing to purchase and resell the product to you they are free to do so.

Why is INSITE so open with its information?

Operating with openness, transparency, and accessibility is an easy way to respect your time. It's also an easy way to get the most out of our resources so we can put our money toward better products at better prices for you.

Does INSITE customize its products?

INSITE's price points are made possible by a dedication to standardized parts, components and manufacturing processes. If you need something different, we're happy to help. However, our stated price points and lead times will no longer apply.

What is the lead-time for an INSITE product?

INSITE strives to achieve market-acceptable lead times on all product deliveries. To start, we anticipate 4- to 8-week lead times depending on the product configuration requested. Our long-term goal is to have many of these machines in stock and ready to ship within 2-4 weeks.

What are the possible operating configurations for the sealers?

To start, there are four sealer configurations: left hand glue, left hand tape, right hand glue, and right hand tape. All of these sealers are rated to operate at 20 cases per minute. We plan to introduce 30-per-minute sealers in late 2018 or early 2019.

What are the physical dimensions of the sealers?

6.9' long by 2.7' wide (82.8" x 32.4").

What case size ranges can the sealers run?

Min: 8.0" (L) x 6.0" (W) x 5.0" (D); Max: 22.0" (L) x 16.0" (W) x 16.0" (D)

How many change points require adjustment during sealer change overs?

There are 8 change over points. Total time to make these adjustments is between 2 and 4 minutes.

What are the power requirements of INSITE's sealers?

What are the air requirements for INSITE's sealers?

What makes INSITE's sealer different than other sealers?

INSITE's case sealers are unique in the amount of features and functionality that we offer at this price point. Other case sealer manufacturers might include major flap containment, HMI controls, spring-loaded side belts and full-length guard doors, but the cost of their machine will be quite different from INSITE's.