Supporting Your Success
The consumer packaging industry forces CPG producers to quickly and continuously refine their product packaging solutions to meet growing customer expectations. From technical support to machine training, INSITE provides the resources your team needs to excel with its product packaging solution. While automated packaging machines bring immense value and efficiency to your organization, they can also introduce complexities and technical problems that slow your team down. With the support of an industry-leading packaging machinery manufacturer like INSITE, your company can steer clear of these impediments and draw full potential from its packaging solutions, boosting your bottom line and driving greater business success. Explore below for more information on INSITE's extensive support services.
Continuity

Machine malfunctions and technical issues can strike at any time, which is why INSITE offers 24/7 customer support. No matter when or where you need us, the INSITE team is ready to serve. Our support services pair continuity with consistency, delivering outstanding results every time.

Convenience

INSITE brings much-needed simplicity to the world of automated packaging support. We develop and integrate fast, straightforward solutions, allowing your team to stay focused and productive instead of scrambling to put out technical fires.

Commitment

Above all else, INSITE prides itself on honest and loyal service. We are fully committed to helping your company thrive—regardless of the challenges or constraints it faces. Your problems are our problems, and we'll stop at nothing to resolve them.
The INSITE Promise
Strong partnerships are built on mutual respect and trust. INSITE honors this truth by covering all of its packaging machines with a strong warranty. This is a pledge to each customer we serve—a guarantee to deliver straightforward packaging solutions that you can rely on. INSITE stands behind the quality and resilience of our packaging machines. To ensure your investment pays immediate dividends, we take full responsibility for faulty components or defects. If your INSITE packaging solution fails because of a faulty frame or component, we'll take care of it to ensure your investment pays dividends.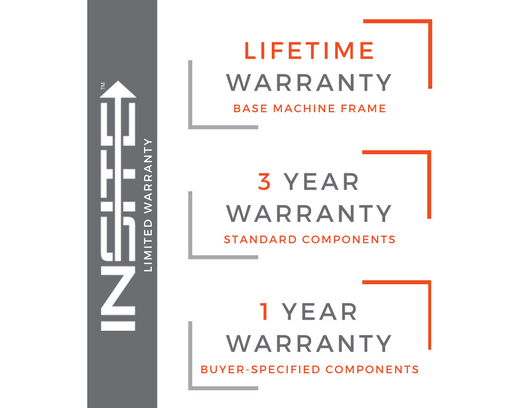 Our Machine Warranty
We are a packaging equipment manufacturer who stands behind its products. Every new packaging machine manufactured and supplied by INSITE comes with a lifetime warranty on the frame, a three-year warranty on standard components, and a one-year warranty on any buyer-specified components. To learn more about INSITE's product guarantee, please review our warranty document.
Contact INSITE
INSITE Support Services
INSITE's robust customer service capabilities include technical support, maintenance and machine optimization. In order to provide maximal value to your business, INSITE acts as a one-stop shop for replacement parts (at the best prices), field service support, reliability assurance and educational resources on automated packaging. Whether you need detailed training tools for operating your case sealer or technical expertise to optimize the efficiency of your automated case erector, INSITE has you covered.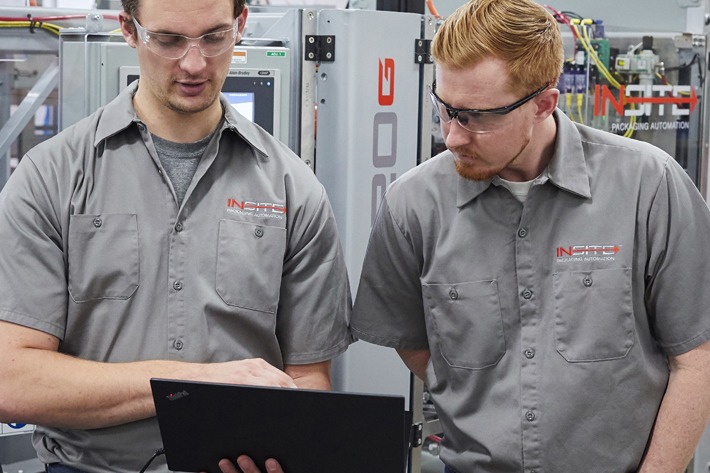 Unrivaled 24/7 Support
We understand the importance of keeping your automated packaging machines up and running. And even the smallest machine malfunctions can decrease the quality and speed of your packaging operations, inhibiting efficiency and profitability. INSITE offers 24/7 customer service to keep your production systems in full swing, leveraging seasoned technicians to provide quick, clear solutions for almost any problem. When you work with INSITE, straightforward packaging support is never more than a phone call away.
tel: 320.762.7850
email: ServiceConnect@insitepackaging.com
INSITE Resources
Looking for more specific information on a certain INSITE machine? Or maybe you're interested in watching videos detailing exactly how our innovative case erectors and sealers operate. INSITE is proud to provide any resources your team needs to understand and capitalize on automated packaging technology. You can rely on us for convenient access to training assets, machine manuals, educational videos and more.
View All Resources