About INSITE Packaging Automation
Simple.
Smart.
Seasoned.
We believe good business begins with honoring your time. We've built an entire business around doing just that.
Packaging: it's in Our DNA
INSITE is a new brand in the packaging equipment industry, but our history runs deep. If you look beyond the logo, the product and the people, you'll notice that we've built this business upon the time-tested foundation of Douglas Machine Inc. For over 50 years, Douglas earned its reputation as a problem solver for the toughest packaging problems. Creative, customized, rigorously engineered, durably built packaging machines have been—and still are—Douglas' calling card. INSITE is harnessing that seasoned creativity and commitment to quality, and applying it to a fresh, streamlined approach for customers to access exceptional standardized packaging equipment.
Who We Are

INSITE designs and builds advanced, streamlined equipment for the secondary packaging industry. We use smart, simple designs to improve performance, remove parts and eliminate complexity found in other packaging equipment. We approach your customer experience in precisely the same way: with a practical focus on delivering value – minus the noise. More than anything we respect and appreciate your time, from the first moment you visit our website through years of fully supported performance of your INSITE equipment.

True Customer Appreciation

INSITE has a singular purpose: to appreciate your time through the design, creation, delivery and support of standardized secondary packaging equipment. We are constantly searching for more and improved methods to appreciate your time throughout your experience with us, from helping you gather information for your upcoming capital purchase to owning and operating our exceptionally reliable equipment.
"INSITE" represents our straightforward promise to bring clarity and understanding into the automated packaging industry, and deliver it to you when and where you need it most.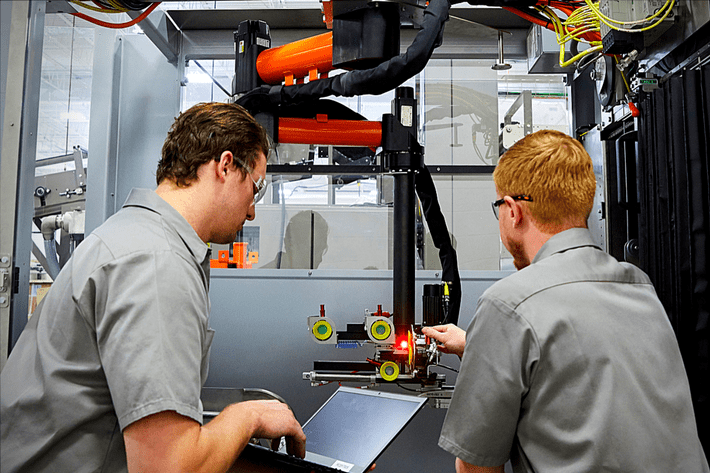 Exceptional 24/7 Support
INSITE's customer support begins well before any purchase. We take a decades-long legacy of superior customer service and apply it to our very first interactions with you. But it won't end there. We hope to be your partner in smart packaging equipment for decades to come. And through it all, we'll be here ready to help.
If your packaging solution breaks down or doesn't deliver the quality you expect, the INSITE service team will assist you immediately with 24/7 technical support.
Our warranty provides three years of coverage against material and workmanship defects along with extended component coverages. You can learn more about the INSITE warranty here.
Insite Support
You're Here
INSITE's approach to the marketplace is enabled by a focus on standardized equipment. This focus frees us to seek economies of scale in both production and market engagement while giving you the access and control you expect when buying less customized equipment. Meanwhile, this focus also allows us to direct more resources toward our products while reducing or eliminating costs that you – our customers – shouldn't have to incur when purchasing a standardized packaging machine.
All of this is our way of saying that we're taking a slightly different path here at INSITE. And that path leads straight to you.
Want general information? This site is a good place to start. Want to talk to an expert, live? INSITE's customer support team is waiting to pick up the phone. Prefer e-mail? No problem. We'll get back to you quickly and efficiently. But maybe you'd rather just have all the information you need right at your fingertips. That's where we shine.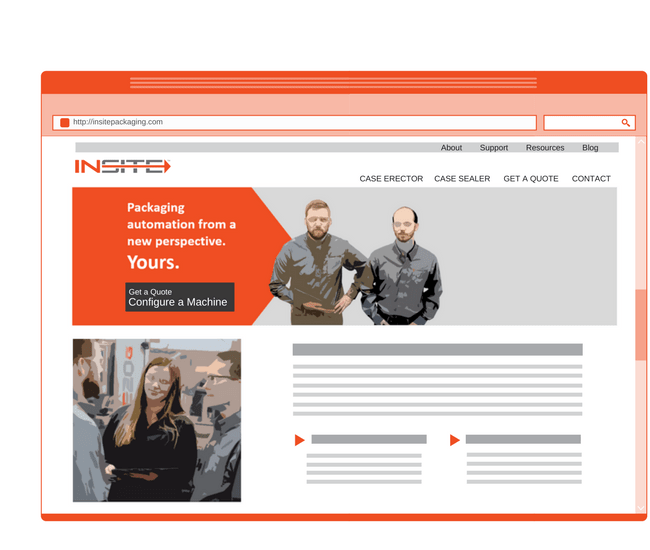 So We're Here, Too
At INSITE, our website is our storefront. We plan to make it the most complete, transparent, accessible storefront you'll find in the industry. We won't shy away from sharing here. Whether it's machine documentation, pricing, or answers to your most detailed questions, we're going to do our best to make sure you can find that information here. And if there's something you can't find, we're an e-mail, phone call, car ride or plane-trip away – ready to help.
At its heart, INSITE Packaging Automation is about you. Our role is to put ourselves in your shoes as much as we can, every day, and try to make your work easier. Straightforward information, straightforward answers, straightforward pricing. Straight, Forward, Packaging Automation.
FAQ: About INSITE
What is INSITE and who started it?

INSITE Packaging Automation was spun up from Douglas Machine Inc. in late 2017. INSITE aims to provide simple, smart, reasonably priced packaging solutions within standardized secondary packaging product categories – and to do it in a way that respects our customers' time.

What equipment does INSITE offer?

How long has INSITE been around?

INSITE Packaging Automation was created in late 2017. But that's only half the answer. We've got packaging industry credibility that can only be earned through a half-century of success.

Can I buy INSITE products through a local agent or distributor?

Yes, if your agent or distributor is willing to purchase and resell the product to you they are free to do so.

Why is INSITE so open with its information?

Operating with openness, transparency and accessibility is an easy way to respect your time. It's also an easy way to get the most out of our resources, so we can put our money toward better products at better prices for you.

Who can I talk to to learn more about INSITE?

Where does INSITE build its equipment?

INSITE sources its components from around the globe with engineering and assembly operations in Alexandria, Minnesota.