Simple. Reliable. Remarkable.
Box Erectors
Box erectors are a deceptively simple type of packaging equipment. They are used to turn box blanks into fully erect, bottom-sealed boxes. While it sounds simple, this task can be complex. Operating a box erector may be easy, but dealing with accidental openings and jamming can complicate the process.
INSITE box erectors remove the complexity and make your box erecting operation easy. When you operate an INSITE box erector – also known as a case erector or an automatic cardboard box case erector – you'll see productivity levels soar and operational capacity improve thanks to its speed and efficiency.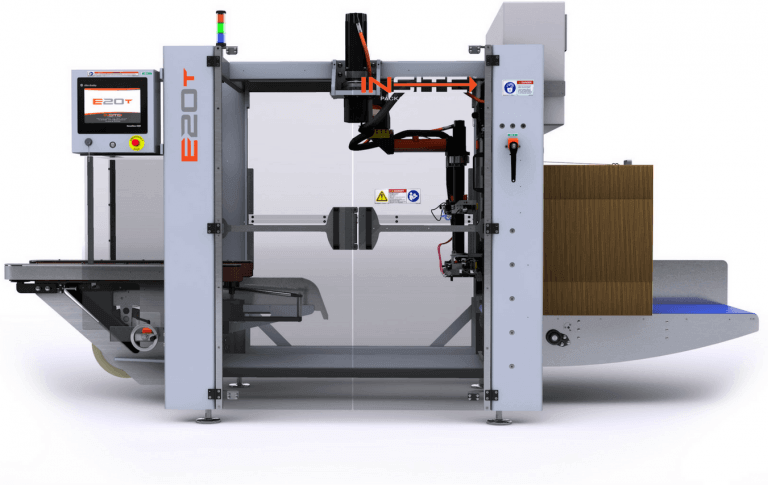 Key Features of INSITE's Box Erector
Box erectors can accomplish more than you might think. With the right machine, you can increase reliability and speed across your packaging line without sacrificing safety or quality. A fully automated box erector machine helps free up resources while producing high quality square boxes. INSITE Packaging Automation box erector machines are designed with the utmost care and consideration to create value for your packaging operation
Automated LxWxD path generation
INSITE's box erector machine is equipped with proprietary, advanced motion control software that automatically generates the robot's path using the outside dimensions of a case. This innovative solution allows you to replace the mechanical mass in other automatic box erectors with INSITE's reliable, efficient and simple SCARA robot.
Opposing-cup case opening
The first function of a box erector is to open a box. It's simple but true. However, other box erector machines on the market don't account for glue over-spray along the manufacturer's joint or dreaded L-shaped cases. INSITE erectors counteract this with opposing-cup effectors, making both situations a problem of the past.
Robotic pick and pass
Our SCARA robot makes unnecessary box erector machine parts a distant memory. Instead of outdated mechanisms and parts, state-of-the-art robotics elevate our customer's experience and utilize Rockwell-branded controls with our purpose-built, reliable SCARA robot.
Safety and ergonomics
INSITE's box erector machine goes above and beyond to ensure operators' health and safety. Our equipment is designed to be safety-first, with easy to access features and limited load strain. The box erector has an open-frame structure, creating easy access to change over points and sealing modules. INSITE Packaging Automation's box erectors are ANSI/PMMI B155.1, ISO 13849 Category 3, and UL certified.
Active case squaring
Our active case squaring feature is designed to ensure all boxes are square before they are sealed. A skewed case is no problem! Our box erector comes with independently driven side belts that respond with a microburst of speed to adjust and square the case.
Durable & sanitary frame design
INSITE box erector machine frames are reliable, hygienic and safe. Created from tube- and plate-steel and designed with particular attention to sanitary standards, these frames can survive 20+ years of asset life.
Box Erector Specifications
We've collected the facts and figures below to give you more background about INSITE Packaging Automation's box erectors. If you'd like to learn more about what we do and our solutions, don't hesitate to reach out! We'll be happy to talk through your needs.REACH OUT TO US
| | E20G | E20T | E30G | E30T |
| --- | --- | --- | --- | --- |
| Max. Speed (cpm) | 20 | 20 | 30 | 30 |
| Min. Case Size | 9" (L) x 5" (W) x 6" (D) | | | |
| Max. Case Size | 18" (L) x 16" (W) x 16" (D) | | | |
| Case Types | Regular Slotted Cases (RSC) or Half-Slotted Cases (HSC) | | | |
| Magazine Length | 4' (48") | 6' (72") | | |
| Magazine Capacity | ~130 cases; min ~6.5 min. run time | ~190 cases; min. ~6.5 min. run time | | |
| Frame | Tube and plate steel | | | |
| Finish | Powder coat | | | |
| Changeover Points | 12 | 11 | 12 | 11 |
| Changeover Types | HMI input, hand-ratchet, clamp, hand knob, hand lever | | | |
| Changeover Time (approx) | ~2.5 to 5 minutes | | | |
| Glue System | Nordson ProBlue 7 | N/A | Nordson ProBlue 7 | N/A |
| Vacuum System | Venturi-style | | | |
| Guarding | Lexan doors with locking switches | | | |
| Electrical | Allen Bradley, Kinetix Servos, Powerflex VFDs | | | |
| Power | 480V 3Ø / 60 HZ | | | |
| Air | 5.3 SCFM @ 70 psi | 5.3 SCFM @ 70 psi | 6 SCFM @ 70 psi | 6 SCFM @ 70 psi |
| Machine Footprint | 15.15' x 4.66' | 12.90' x 4.66' | 17.15' x 4.66' | 14.90' x 4.66' |
| Tape Width | N/A | 2" or 3" | N/A | 2" or 3" |
| Options Packages | Smart Discharge Control; Low-Tape and/or Magazine Alert (with stack light) | | | |
Box Erector Innovations
We started from scratch to provide a better alternative to existing box erectors. Disregarding old and outdated designs, our automatic cardboard box case erector machine is ready to demonstrate what's possible through innovation and creative thinking.


Our box erector is truly one of a kind.
Smooth, on-the-fly robot path generation

Our SCARA robot is a clear example of our innovation as its unique software is capable of converting a case's outside dimensions into smooth and efficient motion.

SCARA pick and pass

INSITE's advanced motion-control software provides robotic functionality. This means 40 to 60 percent fewer parts compared to competitive box erectors. INSITE erectors provide a better operator experience, quicker changeovers and a reduced need for maintenance due to its dependability. No need to adjust, tweak or test; you'll get performance from the first run.

Unrivaled simplicity

Once you see how easily our erectors assemble a box, you won't want to go back to anything else. No erectors on the market perform with the simplicity, smooth motion and reduced noise of an INSITE.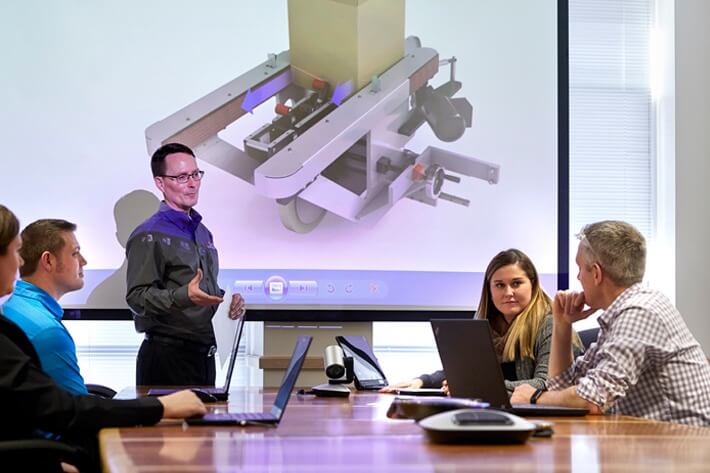 Progress With Purpose
At INSITE Packaging Automation, our solution development process is about understanding your needs and the kind of machine and technology necessary to deliver true value to your packaging operations. Keeping your needs at the center of our business inspires us to push boundaries and continually innovate.
Box Erector Resources
Want to learn more about what automatic box erector machines are capable of in a real-life production line? Our floor plan specifications and video resources below.are here to answer your questions.
INSITE Packaging Automation has the experience and knowledge to guide you through the process of choosing the right packaging solution. Our box erectors and box sealers are an incredible addition to your company's capabilities by providing you a smooth and efficient operational experience every time.
Box Erector Floor Plan Specifications
If you'd like more detailed information about INSITE's box erector machines, our PDFs and DWGs make for a great guide on how a new box erector machine will fit in your facility. These detailed resources can help you examine how our box erector machine (also known as an automatic cardboard box case erector) will occupy space on your facility's floor.
Box Erector Videos
If you're looking for box erector videos, below is a curated selection of INSITE's box erector machine YouTube videos. These videos showcase our capabilities in active case squaring, SCARA arm movement and other features.
We offer detailed and slow-motion videos that give you full insight into our design process and what makes our machines so unique. Our box erector machine sets the bar high for durability, efficiency and productivity.
E20G active case squaring

Look closely and you'll notice the instantaneous adjustments made by the independent side belts as the cases pass the photo eyes.

E20G SCARA arm movement

Watch the smooth motion path of the SCARA robotic arm operating at 20 cases per minute. There's no sound coming from the packaging machine, but even if there were you wouldn't hear much.

E20G at slow speed with no case

Watch INSITE's erector operating at low speeds with no cases. See the entire case erecting process through multiple cycles of 'pick,' 'rack-open,' and 'place'.

E20G erecting at 20 cases per minute

This quick clip demonstrates INSITE's hot-melt glue case erector operating at 20 cases per minute.

E20G 20 cpm dry cycle 1

Click here to view INSITE Packaging Automation's 20 cpm hot-melt glue case erector operating at full speed without cases.

E20G 20 cpm dry cycle 2

This is another perspective demonstrating INSITE's 20 cpm hot-melt glue case erector operating at full speed without cases.

E20 slow speed dry cycle end effector

See the end effector operate in slow motion on INSITE's E20G case erector.

INSITE E20T erector animation

This animation clearly demonstrates why INSITE's E20T tape-seal case erector is so refreshingly simple compared to alternative packaging machines.

INSITE E20G erector animation

This animation clearly demonstrates why INSITE's E20G glue-seal case erector is so refreshingly simple compared to alternative packaging machines.

INSITE E20T Fly-Around

In this wonderful animation you can see the E20T in action from all angles as it erects and tape-seals RSC cases.
Discover INSITE's Box Sealers
INSITE also manufactures box sealers if you're searching for the ultimate erecting and sealing combination. INSITE Packaging Automation's solutions are made to deliver satisfaction and create value.
Like our box erectors, our box sealers are safe, simple and efficient, offering a seamless solution to create more efficiency within the erecting and sealing packaging process.
Our box sealers can handle a range of box sizes and numerous variations in the number of boxes that must be sealed every minute.
FAQ: Box Erectors
What is a box erector?

A box erector is a box-forming machine that automatically forms, folds and seals cases from flat, or knock-down, corrugated blanks. The automated box erecting process allows operational teams to save time on construction during the product-packing process.

What is the purpose of a box erector?

Box erectors form boxes automatically, as well as fold and seal them from corrugated blanks. This allows organizations to eliminate the time needed to manually construct cases during the packaging process.

What are the advantages of using a box erector?

Box erectors save time, money and resources. Employees won't need to waste time forming boxes. Instead, they'll be able to work on more pressing and engaging tasks.

How much does an INSITE box erector cost?

Visit our Get a Quote page to learn more about the costs of box erectors or other INSITE products. You'll receive more information about the configuring process and pricing. The price will depend on your configuration specifications.

What box types can I use with an INSITE box erector?

INSITE box erectors work with Regular Slotted Cases (RSCs). INSITE Packaging Automation also offers box sealers.

Why does INSITE use a SCARA robot on their box erector?

The SCARA robot is used in our box erector machine as it provides a consistently smooth box erecting motion with minimal fuss. Our deep expertise guided the design process and we've created a box erector that's easy to use, right from the start. The SCARA robot eliminates the need for tweaking or adjusting without losing quality or speed.

We tested our box erector machine on office personnel with no on-machine experience, and they were able to be up and running in a matter of minutes with minimal fuss.

What are the differences between boxes and cases?

The terms boxes and cases can be used interchangeably. Cartons, however, are different. Cartons are created from paperboard, which is normally a thin, single-ply construction. Boxes, on the other hand, are made of corrugated fiberboard, or cardboard.

What automatic box erector options are available?

While options are available, no automatic box erector machine option comes close to our features and design at the same price points. While others may offer some of these features, you will likely have to pay a premium for it.

What size boxes are compatible with the INSITE box erector?

Minimum: 9.5" (L) x 5.5" (W) x 5.0" (D)
Maximum: 18" (L) x 16" (W) x 16" (D)

What is the lead time for an INSITE box erector?

INSITE strives to achieve market-acceptable lead times on all product deliveries. To start, we anticipate 4- to 6-week lead times, depending on the product configuration requested. Our long-term goal is to have many of these machines in stock and ready to ship within 3 to 4 weeks, assuming the order is for a standard or standard-with-options machine.

What is "machine hand" when erecting boxes?

Machine hand is determined by which direction boxes travel when standing on the operator side of the box erector. For example, if the blank moves from right to left as it's erected and sealed, you are looking at a left-hand machine.

Are INSITE box erectors customizable?

Yes, as a leading box erector machine manufacturer, we offer both standard and custom options. Please note that custom options are not included in current lead times.

What sets INSITE box erectors apart from competing machines?

INSITE Packaging Automation's box erector machines are different from competing machines for a variety of reasons. Our machine is simplified thanks to the SCARA robot. It has replaced traditional mechanical movement and enabled us to reduce the number of components for each box erecting machine. With fewer components comes improvements in usability, reliability, maintainability and more.

What are the physical dimensions of the INSITE box erector?

Tape box erector with 4' magazine: 12.9' x 4.66'
Tape box erector with 6' magazine: 14.9' x 4.66'
Glue box erector with 4' magazine: 15.15' x 4.66'
Glue box erector with 6' magazine: 17.15' x 4.66'

What are the physical dimensions of INSITE's case erectors?

Tape erector with 4' magazine: 12.9' x 4.66'
Tape erector with 6' magazine: 14.9' x 4.66'
Glue erector with 4' magazine: 15.15' x 4.66'
Glue erector with 6' magazine: 17.15' x 4.66'