Case Erector and Case Sealer Machines
Simple, Stunning Packaging Solutions
Are you looking for a new, innovative way to streamline your production process in preparation for growth? You've come to the right place. INSITE's case erectors and case sealers provide sleek, struggle-free packaging automation that improves performance while eliminating needless complexity.
INSITE is ready to usher in a sleek, safety-focused solution for your application. We're here to help you improve your existing production processes while providing expert industry guidance and stellar customer support. Our case erector and case sealer machines have been thoughtfully designed with you in mind, combining simple, smart equipment with an innovative approach to standardized packaging.
Case Sealers

INSITE's case sealers offer increased functions and features while maintaining a sleek, minimalistic design. With the ability to adjust case sizes and speed, our case sealers help you do less to achieve more.

Key features:
- More effective, built-in major flap control at no increased cost
- Spring-loaded side belts that allow for a wider variety of case sizes
- Smart touch screen provides operators increased power and control
- A safety-first design with full-length guard doors and instant safety switches
- Left and right-hand operation to easily accommodate line relocation or design changes
- Thoughtful, tilt-accessible tape heads designed to keep production running smoothly, even during the roll replacement process

Case Erectors

We designed our advanced case erectors to help you convert case blanks into fully erected, bottom-sealed cases through smarter, more streamlined avenues, producing consistent results.

Key features:
- More durable, hygienic and reliable frame An ergonomic system specially designed to keep your operators safer
- Simple, reliable SCARA robot that follows its own software-written path
- Opposing-cup opening force to combat glue overspray and prevent "L-shaped" cases
- Smarter robotics system that allows SCARA to replace many other mechanisms
- Active photo eyes that inspect leading case panels and dynamically adjust side carrier belts until each case is square
"INSITE" represents our straightforward promise to bring clarity and understanding into the automated packaging industry, and deliver it to you when and where you need it most.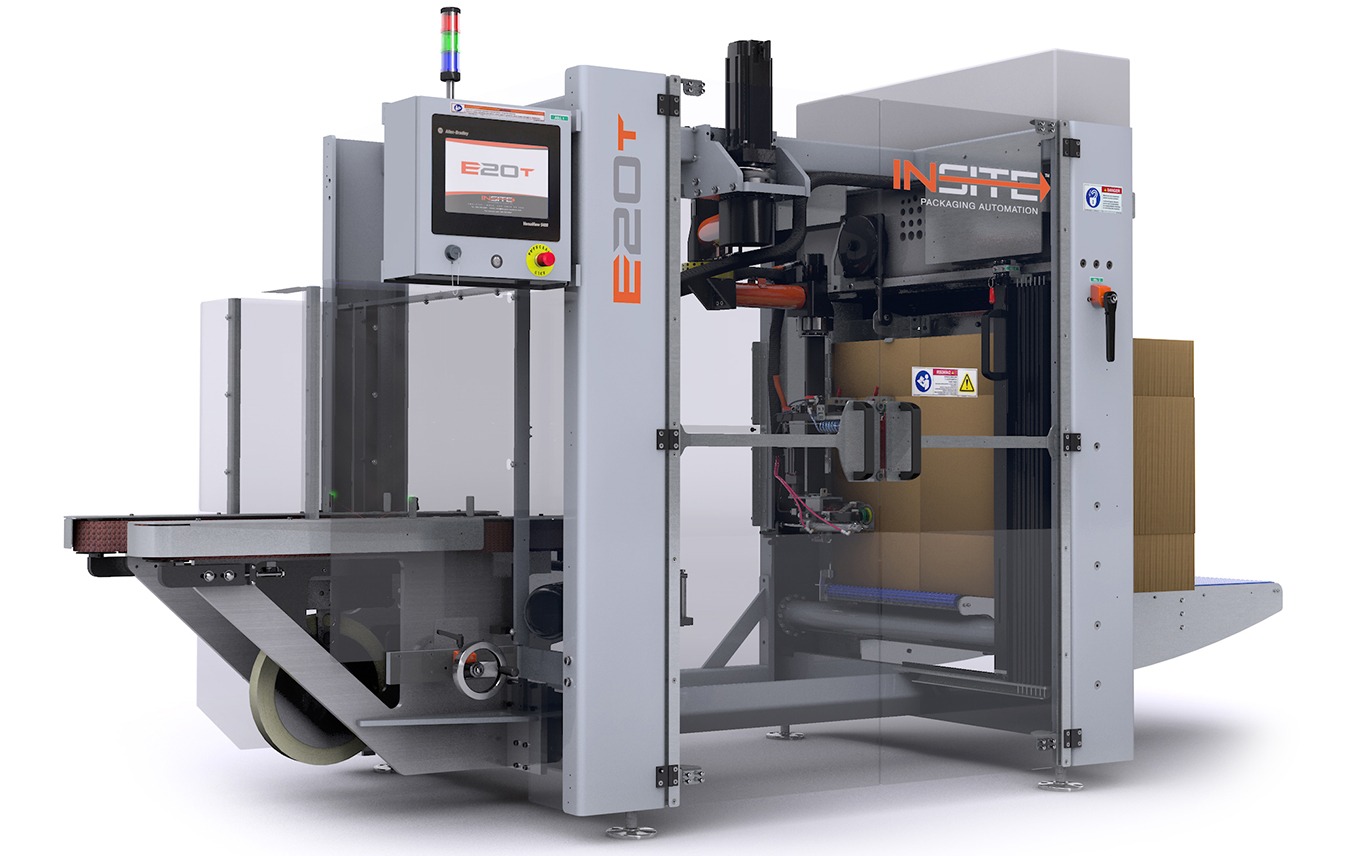 Advanced Equipment at Affordable Price Points
At INSITE, we're passionate about providing the most effective solutions for common packaging problems, and we've done just that – our case erectors and case sealers are your one-stop shop for affordable prices, elegant features, innovations and essential resources every packaging equipment professional needs. Our simple, streamlined designs improve performance, remove unnecessary machine parts and eliminate complexity found in the packaging equipment of our competitors.
Whether you're new to the field of packaging automation or have spent 20 years providing packaging services to your customers, INSITE's case erectors and case sealers can fit your unique operation and simplify your production process. Our thoughtfully-designed machines are here to make your job easier, not harder – so you won't find yourself faced with unexpected upgrade costs or frustrating maintenance issues.
Contact Us
A Commitment to Excellence and to Our Customers
Because our goal is to help you do less and achieve more, INSITE approaches the experience of our customers from the focused perspective on delivering increased value without requiring increased effort. We respect and appreciate your time and strive to make sure you are fully supported. From your first click on our website to years down the road, INSITE will be there to ensure your case erector or case sealer performs just like the day it became a part of your production line.
In addition to our unwavering commitment to bring clarity and understanding to the automated packaging industry and to deliver it when and where our customers need it most, INSITE takes immense pride in offering excellent customer service. Our 24/7 support team is standing by – day or night – to provide immediate, informed technical support. We work hard to speak plainly and be transparent in all documentation and communications because our primary focus is to appreciate your time through the design, creation, delivery, and support of standardized secondary packaging equipment.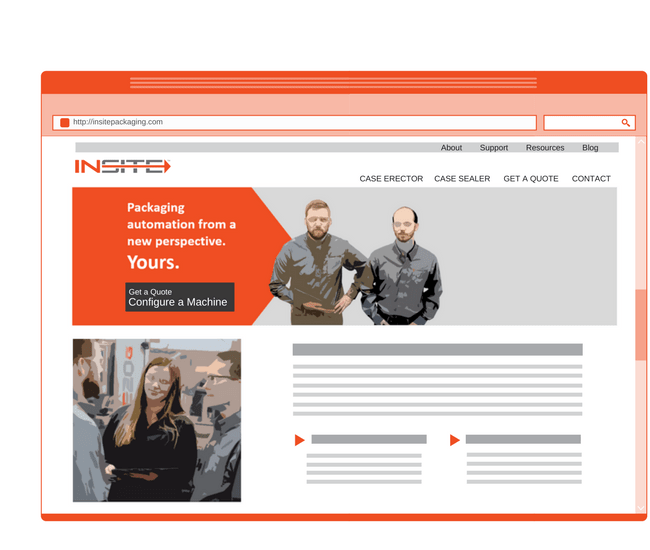 We've got you covered – literally. Our product warranty provides up to three years of coverage for material and workmanship defects along with extended component coverages and offers lifetime coverage of all our base frames.
Our innovative case erectors and case sealers are your next step towards a smarter, more streamlined production process. Reach out to us today to learn more about working towards better packing automation with INSITE.
Call us today!
FAQ: About INSITE
What is INSITE and who started it?

INSITE Packaging Automation was spun up from Douglas Machine Inc. in late 2017. INSITE aims to provide simple, smart, reasonably priced packaging solutions within standardized secondary packaging product categories – and to do it in a way that respects our customers' time.

What equipment does INSITE offer?

How long has INSITE been around?

INSITE Packaging Automation was created in late 2017. But that's only half the answer. We've got packaging industry credibility that can only be earned through a half-century of success.

Can I buy INSITE products through a local agent or distributor?

Yes, if your agent or distributor is willing to purchase and resell the product to you they are free to do so.

Why is INSITE so open with its information?

Operating with openness, transparency and accessibility is an easy way to respect your time. It's also an easy way to get the most out of our resources, so we can put our money toward better products at better prices for you.

Who can I talk to to learn more about INSITE?

Where does INSITE build its equipment?

INSITE sources its components from around the globe with engineering and assembly operations in Alexandria, Minnesota.