Straight. Forward. Sealing.
Box Sealers
INSITE's box sealers offer a sleek design and durable packing capabilities. With numerous features that make box sealing an easy and fuss-free process, the INSITE box sealer machine is a crucial piece of equipment for customers.
Our focus is on creating a customer-centered experience that fully encompasses your needs. Our box sealers are built with standard features that are offered on competitive equipment as optional upgrades. Our machines can handle an array of box sizes and speed variations without losing performance.
Our box sealers surpass the industry standard for safety, dependability and durability from operation to maintenance. We offer cost-effective industrial box sealer equipment for businesses seeking high-quality packaging equipment.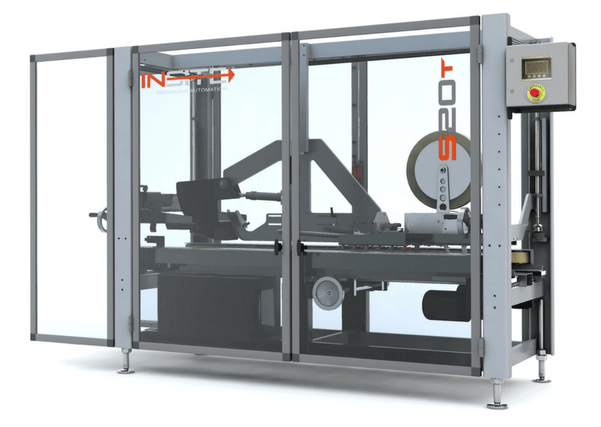 Key Features of INSITE's Box Sealers
Properly sealed boxes are crucial for businesses as it's one of the main methods of protection when transporting goods. As products move through a warehouse and arrive at their destination, an adequately sealed box reduces the chances of damage. Is your box sealer capable of offering this level of protection? Can it:
Keep machine operators safe?
Fully seal boxes reliably and without any worry?
Operate at full capacity without maintenance issues?
Handle boxes efficiently without damaging your product?
Run smoothly, allowing operators to be freed up for more engaging tasks?
When you work with an experienced box sealer manufacturer (they may also go by cardboard box sealer or carton box sealer manufacturer), you'll be able to answer all those questions with a confident yes. INSITE offers box sealers that keep your operation running efficiently while providing value across your production line.
Major flap control
A reliable box sealer must have a mechanism that can control the major flaps of a case. If this is not done, boxes are at risk of getting jammed or damaged. INSITE Packaging recognizes the value of this feature, offering it without any hidden charges with our standard box sealer (also known as an automatic box sealer).
Standard touch-screen controls
At INSITE, we pride ourselves on creating modern tools that are intuitive and easy to use, which is why our box sealers come with standard touch-screen controls.
Full-length guard doors
Our box sealers are incorporated with features that balance safety and efficiency. Full-length guard doors equipped with safety switches keep operators away from the risk of harm. When the box sealer machine is operating, guard doors are kept closed. When the machine is stopped, full access is granted for maintenance or tape replenishment.
Tilt-accessible tape head
INSITE box taping machine carton sealers are thoughtfully designed to provide as much convenience as possible. Our box sealer comes with a tape head that's easy to tilt for access to switch out a roll of tape or swap the entire tape head.
Spring-loaded side belts
Keeping boxes free from damage is of the utmost concern, and with INSITE's box sealer machines, there's no reason to worry. Spring-loaded side belts are used to get the right amount of grip on boxes while accommodating a variety of case widths.
Portability and dexterity
Our box sealer machine gives you the freedom to relocate your machine without issues. Whether you redesigned your plant or need to manage plant demand, INSITE's box sealers come with a caster option that lets you to relocate as required and can be easily switched between left- and right-hand orientation.
Box Sealer Specifications
Below, you'll find an extensive list of INSITE Packaging Automation's box sealer specifications. For additional information, please get in touch. We'd be happy to provide you with the best resources to help you choose the right box sealer for your business.REACH OUT TO US
| | S20G | S20T |
| --- | --- | --- |
| Max. Speed (cpm) | 20 | 20 |
| Min. Case Size | 8.0" (L) x 6.0" (W) x 5.0" (D) | |
| Max. Case Size | 22.0" (L) x 16.0" (W) x 16.0" (D) | |
| Case Types | Regular Slotted Cases | |
| Frame | Plate steel & formed metal channel | |
| Finish | Powder coat | |
| Changeover Points | 8 | |
| Changeover Types | HMI input, hand wheel, hand lever/clamp | |
| Changeover Time (approx) | ~2 to 4 minutes (total) | |
| Glue System | Nordson ProBlue 4 | N/A |
| Flap Management | Festo air cylinders, plow rails | |
| Guarding | Lexan doors with safety switches | |
| Power | 480 3Ø / 60 HZ | |
| Air | 70 PSI | |
| Machine Footprint | 6.9' x 2.7' | |
| Tape Width (S20T only) | 2 or 3 inches | |
| Options | Low Tape Alert (with stack light); Caster Portability | |
Box Sealer Innovations
INSITE Packaging Automation is committed to serving our customers with box sealer machines that are simple to operate and optimize production. Cardboard box sealer machines are an investment, and we work hard to ensure your box sealer immediately starts providing value to your operation. One of the ways we do this is through our tireless efforts to innovate and develop new ideas to improve our packaging equipment. INSITE carton sealer machines use a combination of technology, system and design to increase output and free up operator resources in a cost-effective way. Here are some of the innovations we offer:
Flap containment

Most machines, including INSITE Packaging Automation's box sealer machine, require major flaps to have full clearance from minor flaps to prevent damaged flap corners from case variances. However, our box sealers remain a budget-friendly alternative, while others may add extra costs when including this key feature.

Single machine with vast functionality

Our box sealers scale with your business to offer coverage across a variety of operating requirements. Whether you're running 1 case per minute or 30 cases per minute, our box sealers have the capability to handle it all.

Designed to save

INSITE box sealer machines (or box taping machine carton sealers) are designed with a purpose. Each feature and capability has been thoughtfully developed and implemented to save on costs during machine sourcing and assembly. With one machine, you can run a vast array of case sizes at different speeds, making it an efficient machine. We've also considered machine symmetry and sealing module design to ensure consistency across orientation and configuration. Both left- or right-handers can easily operate the machine and seal with glue, or tape. Best of all, we've been able to incorporate these features without driving up cost.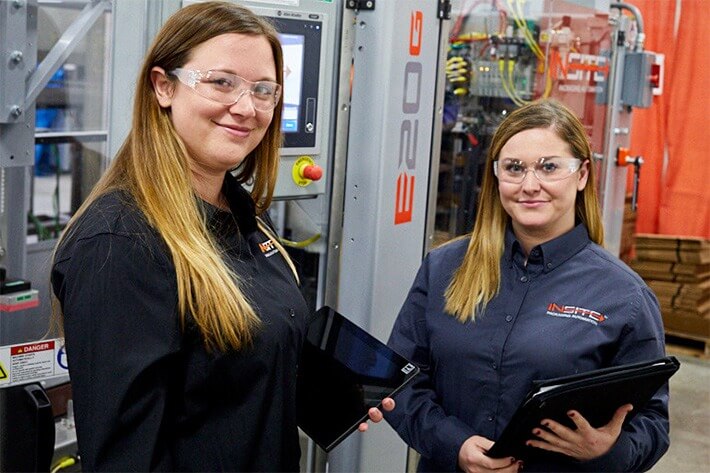 Innovation With Intent
NSITE Packaging Automation machines and technologies are here to deliver value and quality for your business and your packaging operation. We work tirelessly to continually innovate and evolve so as your production requirements and business needs shift, our solutions are able to meet and exceed your production goals.
INSITE's combination of cutting-edge automation technology and unparalleled customer service provides your business the necessary tools to elevate your packaging automation capabilities. LET'S CHAT
Box Sealer Resources
If you're seeking detailed information about box sealer machines and how they operate in production environments, we're here to help. INSITE Packaging Automation offers access to the resources and research needed to feel confident in your decisions about box sealer machine options.
Box Sealer Floor Plan Specifications
For customers seeking specific information about INSITE Packaging Automation's box sealers (which are sometimes referred to as box tape machines or box glue machines), we've provided a collection of our box sealer floor plan PDFs and DWGs. These resources can give you a better idea of how our box sealer machines will fit on your facility's production floor.
Box Sealer Videos
Need to see one of our modern packaging machines in action? We've created some videos of INSITE's box sealers. This is just a small portion of our capabilities. Want to learn more? Contact INSITE today.
S20G Videos Coming Soon

Check back later for updated videos of INSITE's glue case sealing machines!

S20T Tape Seal Animation

Check out this animation depicting our S20T tape top sealing machine as it accepts incoming product, controls the major flaps and seals the case tops!
Discover INSITE's Box Erectors
If you're looking for the latest and best box erector machine, INSITE Packaging Automation's solutions are the right fit for your team!
As with INSITE box sealers, our box erectors are designed with safety, dependability and operational simplicity in mind. East to operate and maintain, our box erectors work in parallel with our box sealers to give your business a leg up in packaging.
FAQ: Box Sealers
What is a box sealer?

A box sealer is a type of manufacturing equipment needed to close or seal corrugated boxes. This type of machine is designed for maximum efficiency and available fully automated or semi-automated. INSITE box sealers are fully automated, which means operators do not need to participate in the box sealing process as all functions are completed automatically.

Box sealers are also known as box taping machine carton sealer, cardboard box sealer, carton box sealer, case taper, box tape machines and box glue machines.

What are the differences between box sealers and carton sealers?

Box sealers and carton sealers are the same type of packaging equipment.

How much is a box sealing machine from INSITE?

Visit our Get a Quote page to learn more about our configuration and pricing. The cost of the box sealing machine depends on your specifications. We'll walk you through the configuration process and you'll receive a custom quote.

Do INSITE box sealers work with cardboard boxes?

Yes, INSITE box sealers work with cardboard boxes.

What operating configurations are available for the box sealer?

INSITE offers four operating configurations for the box sealer, including:

Left-hand glue
Left-hand tape
Right-hand glue
Right-hand tape

Depending on the model, our case sealers are rated to operate up to 30 cases per minute.

Are box sealers and box tape machines different?

Box sealers and box tape machines refer to the same type of equipment.

How are INSITE's box sealers different from other similar machines?

INSITE box sealers are different from other machines offering similar services because of the features and functionality offered at this price point. While other machines may provide similar features, their cost will likely be far more than INSITE products.

What are the differences between semi and fully automatic box sealers?

Semi-automatic box sealers still require some operator involvement in holding flaps, while fully automated sealers require no operator involvement.