Get to know your case erector and sealer: Top features of INSITE Packaging robotic design
Published September 10, 2020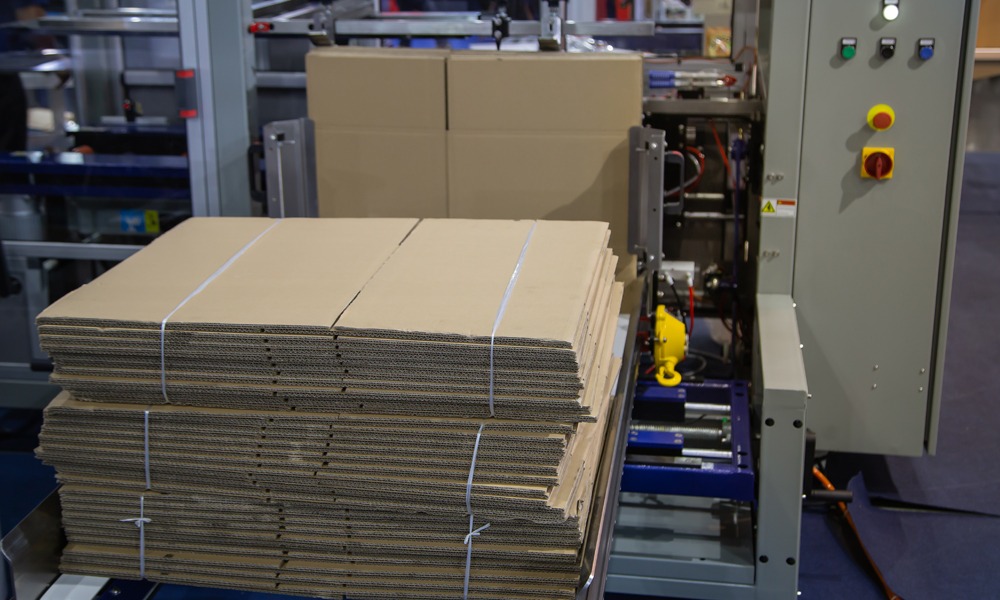 What are some of the top things you need to know about INSITE Packaging's case erector and case sealer? The following walks through some of the benefits and features to educate you on what these machines have to offer.
Servo motor
A servo is a small programmable motor that operates the robotic components of your secondary packaging machines. This is what makes the precision and repeatability possible in the case erector, so you can count on those 20 or 30 cases a minute (depending on which INSITE machine you purchase). The servo motor receives feedback of the component's positioning and directs the component's motion and positioning. The advantage of a servo-driven case erector is that it creates a streamlined robotic design. Thanks in part to this powerful servo motor, INSITE Packaging's case erector has 50-70% fewer moving parts than a standard case erector. This means fewer breakdowns, less maintenance and lower cost of ownership.
Opposing cup case opening
Step one in building a case is opening the case blank. Many OEMs use mechanical components for this step. For example, many mechanical openers use pins that slide into the flutes of the corrugated cardboard. The downside of using mechanical parts like these is they can cause tears in the case, resulting in a machine jam. Opposing cup case opening removes the mechanical element and uses a simple vacuum function. The advantage of vacuum opening is it leaves no damage to the case, and because there are fewer components, the machine is less apt to jam or create downtime.
Wide open design
It's not unusual to see an operator climb a case erector to fix a jam, when you're talking about a machine with a standard closed design. INSITE's open design case erector lets users walk right inside the erector so they can easily reach the access points, pull out cases, and quickly fix jams so stoppages are kept to a minimum.
Photo squaring
Squared corners are everything in a case. Otherwise, the result is unclosed boxes or uneven stacking surfaces (which can lead to skewed pallets and damaged products). During case squaring, two photo eyes check the case edges, and if they're not squared, the adjustment tool will adjust the edges until they are square. At the same time, the belt will automatically change speed on one side so as not to disrupt production. Reliably squared corners simply make everything downstream run a lot better. In addition to gaining 97% efficiency with using the INSITE Packaging case erector, the proactive photo eye feature eliminates down-the-line problems, so you can gain even more efficiencies.
Secure sealing
INSITE case sealers use a two-belt drive system, both of which are spring loaded to provide positive compression on the side of the cases. This, in addition to overhead compression, assures all items inside the container are in place and securely sealed.
Smart SCARA robot technology
This four-axis robot is used in industrial assembly, and it's designed to mimic the human arm. This assembly is powered by PLC (process logic computing) that allows you to switch case sizes without having to add and adjust components. It's simply a matter of entering the case formula (length and height), and the arm is programmed and ready to set up the cases.
[Learn more from Packaging Machinery 101: 5 Terms You Should Know]
Fail safe, rapid changeovers
Few adjustment points means changeovers are completed in a matter of minutes. Machines store up to 12 recipes, so once the recipe has been dialed and successfully executed, it will replicate with precision the next time you need a specific size.
Training
INSITE Packaging machines are easy to operate, even for a novice, thanks to the simple, intuitive human-machine interface and wide open accessibility to clear jams and restock case blanks. When your technician installs the machine on-site, three levels of training are available. The operator level of training teaches employees how to stop and start the machine and handle basic issues, such as clearing a jammed machine. Level two is operator plus maintenance, where the employee learns to manage routine upkeep and troubleshoot problems like air leaks in the hose. Level three senior maintenance training covers everything a skilled machinist needs to know to keep the machine in good repair for years to come.
Once your secondary packaging machines are up and running, INSITE provides access to many helpful reference tools. Our website hosts a full library of videos and animations, so you can plan, troubleshoot and ensure everything is running as it should. When you need a refresher, our owner manuals and job aids are just a click away. INSITE Packaging has U.S.-based support available 24/7.
Ready to upgrade your modular secondary packaging system with automated case erectors and case sealers? Contact INSITE Packaging today to get started.